Dongfeng Motor Corporation Russia Celebrated Opening for Its Flagship Store on July 25, 2017
On July 25, 2017, Dongfeng Motor Group Co., Ltd. (DFG) opened a new page of its history in Russia market. Witnessed by H.E. Ambassador Li Hui of China to Russia, local government officials, dealers, partners and journalists, Dongfeng Motor Corporation (DFM) held the press conference to open the flagship shop of its Russia branch and launch DFM AX7, medium truck and tripper truck. At the end of press conference, DFM Russia signed strategic cooperation agreement with ICBC.
Headquarters & flagship store of DFM Russia is located to the north of Moscow in the first section of federal highway leading to Moscow Sheremetyevo Airport. Exhibition hall in the flagship store is 3,600 m2 large, which displays popular models of DFM including H30 Cross, new AX7 and Dongfeng commercial vehicles. The after-sales service area is 500 m2, including repair workshop, cleaning workshop and tire service. As the first auto manufacturer of China that has its own store in Russia, DFM also uses the store as its Russia headquarters. The investment represents that DFM has its long-term plan in Russia market.
AX7 of DFM got launched in the market
In the same day, the new model AX7 of DFM was launched into the market, whose price was disclosed. This is the first cross-border medium SUV developed by DFM on its own, which has excellent engine and chassis performance with high contents of technologies. It has excellent control and all-road ability. The model is made quite international by the attractive appearance, exquisite trimmings and wonderful configurations that come from world-famous producers of electronics, parts and components. With front-wheel-drive, the model is equipped with PSA RFN 10LH3X designed for Russia market, which has 2.0 displacement, maximum power at 140hp/6,000 rotations, peak torque of 200nm/4,000 rotations, 5MT or 6AT of AISIN. When the load is 1,595-1,625kg, it has fuel consumption of 8.0-8.7L with EU-V emission standard.
It is worth noting that all AX7 units sold in Russia market are equipped with satellite positioning system, Electronic Stability Control (ESC), Anti-lock Braking System (ABS), Electronic Brake-force Distribution (EBD), Brake Assist (BA), Hill Assist System (HAS), Hill Descent Control (HDC), Traction Control System (TCS), and Brake Override System (BOS). Because of the high configurations and exceptional cost-effectiveness, the model has captured extensive attention as soon as it is launched into the market.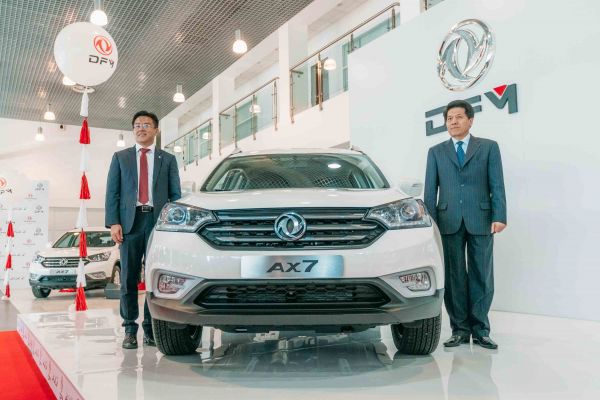 In the press conference, Dongfeng commercial vehicles entered Russia market again by starting with two series in commercial vehicles and ligh pickup. The major models include the 8-tonne KR-DFH5080B80, the 12-tonne KR-DFH5120B80, the DFL3310AW1 and DFL3251AW1 tripper trucks.
Also in the event, DFM Russia signed strategic cooperation agreement with ICBC, the largest bank in China.