Like-minded people come together regardless of long distance. On April 17, Dongfeng Motor Corporation (DFM) held Overseas Distributors Conference 2019 in Shanghai, with the theme "Drive Your Dream". You Zheng, Member of the Standing Committee and Vice President of DFM and Heads of Overseas Business Units of DFM, gathered with over 120 overseas partners and distributors of DFM from 50 countries and regions, to explore cooperation in a broader range and at a higher level, build a community of shared interests and create a bright innovative future.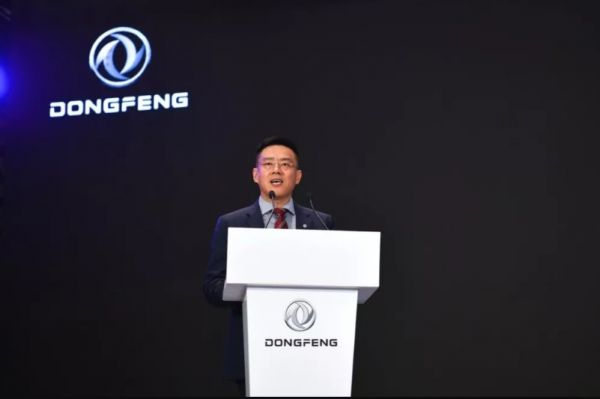 DFM Overseas Distributors Conference 2019 is the 7th edition of the conference. The conference opened with a promotional video of new Dongfeng brands, reviewed DFM's overseas business development in 2018, released DFM's new overseas mid-term business plan and regional marketing plan, arranged next-step key work, presented and promoted the achievements of DFM over the 50 years and its upcoming products, and commended the outstanding overseas distributors and the winners of the Dongfeng Overseas Business Value Contribution Award in 2018. Following the conference, overseas distributors test-drove representative Dongfeng-branded vehicles.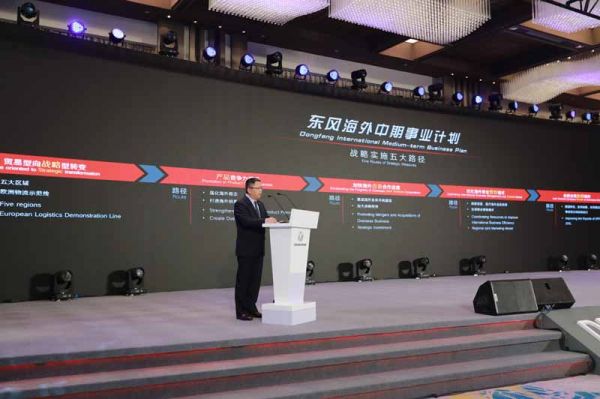 DFM's new overseas mid-term business plan (2019-2023) set three goals: achieving overseas sales of 300,000 units, establishing 3-5 overseas manufacturing bases and building 1 overseas star model by 2023. To achieve these goals, DFM has worked out eight strategic measures: firstly, making clear the five paths to achieve the strategic goals; secondly, operating in five major regions, cultivating 10,000-unit markets and building 1,000-unit market clusters; thirdly, creating regional marketing models and advancing regional operations; fourthly, intensifying product launch, advancing combined marketing, enhancing product competitiveness and building star products; fifthly, intensifying network construction and marketing support, cultivating overseas sales and core service competitiveness; sixthly, speeding up the construction of the European logistics demonstration line, improving the level of product R&D and marching into high-end markets; seventhly, intensifying regional marketing and brand image building; lastly, advancing the strategic cooperation in diversified business fields.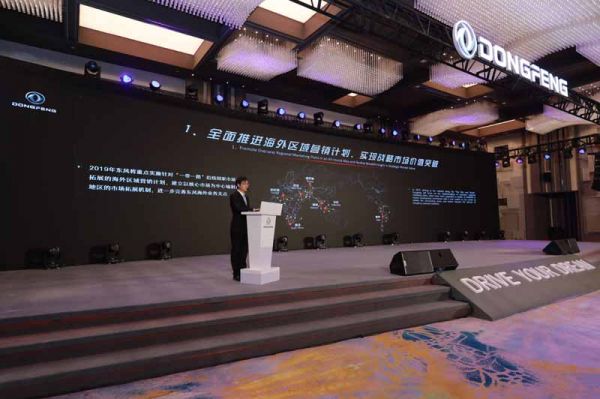 According to the requirements of advancing the regional operation model in the new overseas mid-term business plan, DFM's regional marketing action plan (2019-2020) set the sales targets (2019-2020) for South America, the Eurasian Economic Union, the Middle East, Southeast Asia and Africa, and worked out the key measures to fulfill these targets.
With focus on the overseas sales target of 77,500 units in 2019, DFM will comprehensively advance its overseas regional marketing plan, strive to establish its new overseas fulcrums and achieve new breakthrough in value; will further perfect its overseas commodity planning system, intensify product launch and comprehensively enhance its overseas market competitiveness; will further implement its new brand plan, enhance its brand image and continue to enhance its brand value; will further perfect its overseas mid & long-term talent plan, strengthen the construction of its overseas talent system and continue to improve its overseas marketing power; and will further deepen cooperation with strategic partners and strengthen enterprise integration to achieve win-win.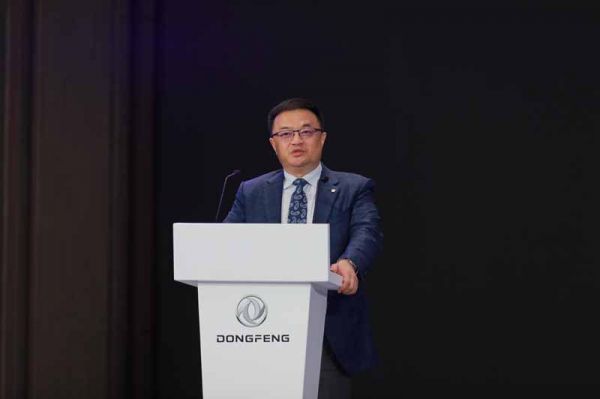 Dongfeng ofChina, Dongfeng of the World. In recent years, DFM has implemented the national "Belt and Road" initiative, steadily advanced its overseas mid-term business plan, constantly quickened the pace of "globalization", expanded its overseas friend circle, increased its overseas sales and enhanced its brand influence. With focus on creating a "3+3+N" business layout, DFM has built 3 DK manufacturing bases, established 3 overseas sales platforms, advanced N overseas opportunistic projects, and achieved staged breakthrough in regional markets such as the Middle East, South America, Eastern Europe, North Africa and Southeast Asia.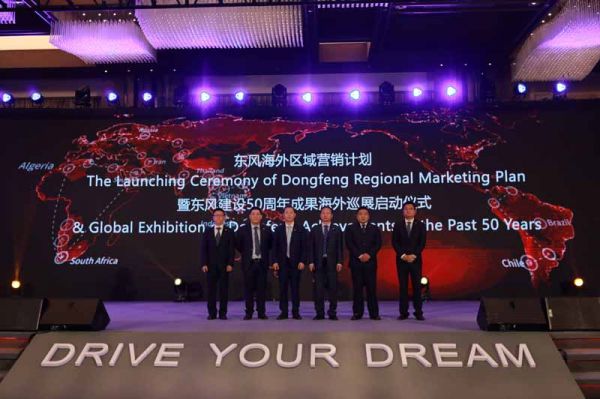 "Overseas development is of strategic significance to DFM. We will step up strategic deployment, continue to pertinently launch more competitive products in different regional markets and steadily advance overseas development," said You, adding that DFM would implement its brand strategy in depth, strive to build a world top brand, interpret "Made in China" with Dongfeng brand, and kept presenting "quality, smart and agreeable" products and services to global consumers.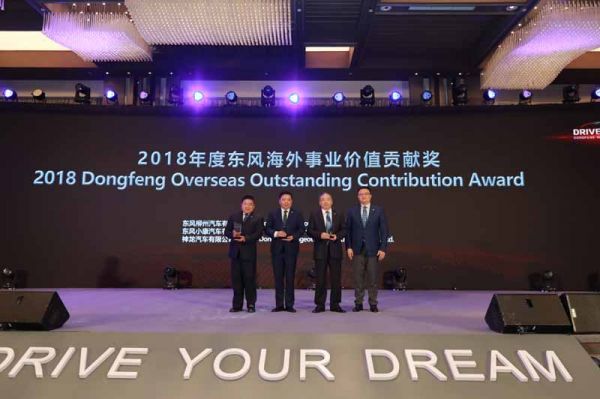 To further help overseas distributors and partners enhance their understanding of DFM and consolidate their confidence in developing with DFM abroad, DFM has developed strong scale advantage and high-quality operation capacity with focus on comprehensive strength, built its brand image and enhanced its brand value with focus on market and customer experience, and kept forging towards the goal of "becoming an outstanding enterprise providing all-round outstanding automotive products and services to consumers" with focus on the internationalized future.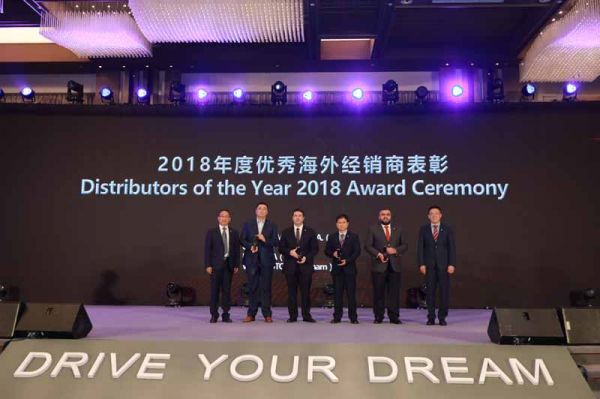 Internationalization is a pass for world top automakers. Going global is a strategic choice of DFM for the world. DFM will stick to the concept and principle of open cooperation and win-win, said Li Junzhi, General Manager of the International Business Unit of DFM and General Manager of China Dongfeng Motor Industry Imp. & Exp. Co., Ltd., hoping that DFM's overseas partners would continue to pay attention to and support DFM's overseas business development and strive to achieve win-win.
Facing the complex environment and severe situation, DFM sold 3.83 million units in 2018, securing its second place in the industry, maintaining high revenue and profit levels in the industry. Throughout 2018, DFM exported 74,000 cars, SUVs, MPVs, pickups, heavy, medium, light and mini commercial vehicles, up 14 percent year on year, ranking 5th in the industry (5th in the passenger vehicle segment and 3rd in the commercial vehicle segment). In 2018, DFM was ranked 65th among Fortune Global 500, 40th among Best China Brands, 37th amongChina's 500 Most Valuable Brands and 3rd amongChina's Top 500 Manufacturers. In the future, DFM will provide outstanding automotive products and mobility service to consumers, and strive to be a domestic leading and world top auto brand.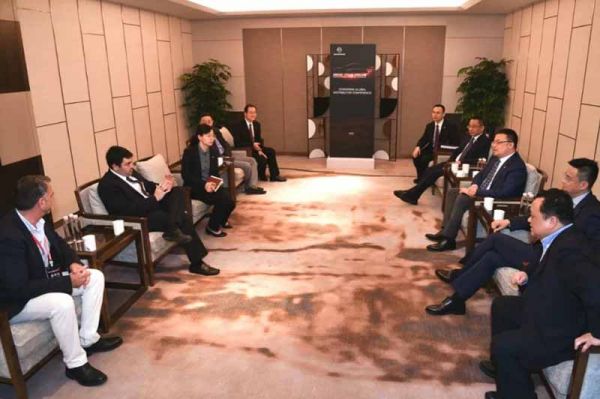 The Overseas Distributor Parallel Session of the Vehicle Export Business Unit, as well as panel discussions between DFM's overseas business units and distributors were organized during the conference. They focused on issues such as cooperation deepening, model introduction, brand promotion and business policies.