To cater for the development of the times, online marketing promotion is in full swing at present. This year, all automakers, under the influence of the pandemic (COVID-19), kept on strengthening the integration of media communications through all channels, and focused on promoting the marketing via social communities and the Internet. Against the backdrop, the team of Dongfeng International Division actively adapted itself to the situation, adjusted strategies, and took multiple measures to strengthen online promotion and popularization in overseas market, which achieved good results.
I. Optimize the pages of Dongfeng Motor Corporation (DFM) international website, and make full use of DFM's international website (http://www.dongfeng-global.com/) to release the official news and reports on a frequent basis. This year, DFM's international website has released 30 pieces of news and reports (for example, report on mutual supports of domestic enterprises and overseas copartners during the pandemic, exclusive report on work resumption of domestic enterprises, reports on debut of new cars and display of new technologies, and news on special events and significant events), and produced special pages on DFM's participation in Auto China (Beijing), Wuhan Motor Show, and Dongfeng Technological Innovation Week, etc., which fully displayed Dongfeng brand and product competitiveness to overseas customers. All told, the viewership of DFM's international website reached nearly 100,000 person-times, indicating that the international website received extensive attention from the customers.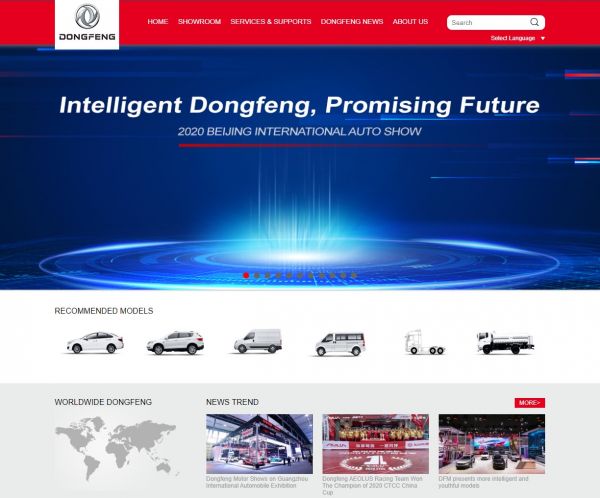 II. Take full advantage of mainstream media like Xinhua News Agency to promote Dongfeng brand extensively in overseas market. During the pandemic, the Xinhua News Agency organized the media like Xinhuanet.com, Reference News, and Half-monthly Comment to make more than 30 exclusive reports on DMF's overseas fight against the pandemic. In addition, the Xinhua News Agency's overseas Facebook account released two pieces of special information on Dongfeng, which covered more than 600,000 person-times, and attracted a multitude of overseas customers for interaction and forwarding.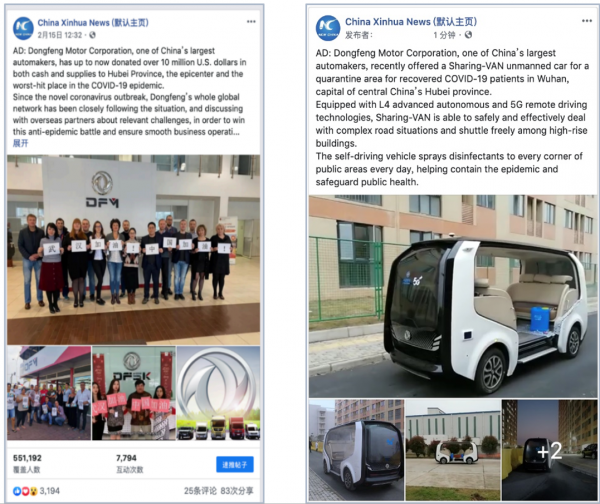 Meanwhile, DFM's international website released special reports on the fight against the pandemic in different languages (like English, French, and Spanish), and made positive reports to overseas customers.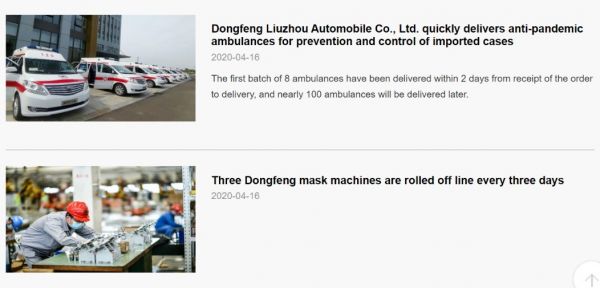 III. Marketing staff of overseas branches of China Dongfeng Motor Industry Imp. & Exp. Co., Ltd. took the initiative to go abroad, take part in the video recording, and assist in completing production of multilingual advertising promotion VCRs and footages. Also, they interpreted car models and showed the technologies to overseas customers in person, in order to strongly promote Dongfeng products and technologies.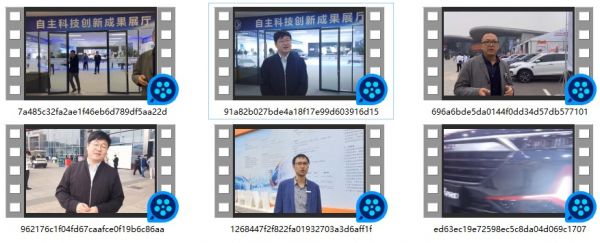 IV. Create official accounts at DFM Facebook and Tik Tok. Of which, DFM Facebook Official Account (https://www.facebook.com/Dongfeng-Motor-100564778559748, account name: Dongfeng Motor) and TikTok official account (account name: @dfmotor), which are in trial running, have released multiple pieces of information like DFM's participation in the international auto show, CTCC events, and debut of new car, etc. By adopting diverse means like picture plus text, video, topic, and scroll playback, the official accounts fully displayed Dongfeng brand competitiveness and representative products.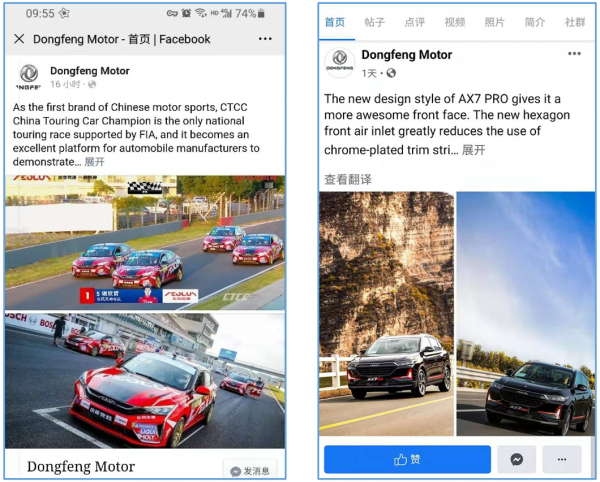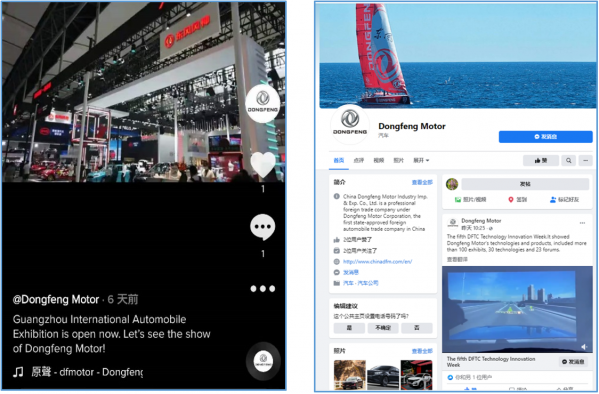 DFM's official accounts at overseas social media like DFM Facebook and Tik Tok, which take "DONGFENG" brand as the communication subject and "Drive Your Dream" as the theme, showed a series of vivid pictures, texts, and videos on Dongfeng brand story, star model, and technology display, as well as highlighted DFM's promotion in "Five-oriented" frontier sectors like intelligent technology and autopilot, etc., leading to improvement of the Dongfeng brand image. In addition, these official accounts introduced multilingual contents, facilitating overseas customers to learn about DFM in all aspects and promoting the marketing.
V. Continue the Dongfeng brand sponsorship in overseas key markets, and integrate multimedia communication means to strengthen the brand promotion. 

In Chile, DFM kept on sponsoring Universidad de Chile FC, a competitive club of Chilean League of Football. It is worth saying that Universidad de Chile FC with 91 years of history has been qualified for international championships for 10 consecutive years, so it enjoyed ultrahigh exposure in South America. Today, Universidad de Chile FC has more than 4 million football fans.
In 2020, DFM continued sponsoring Universidad de Chile FC. On the basis of previous promotion via print and online media, DFM endeavored to intensify the communication via local social media: for example, it took advantage of the football club's official account and the star p s' official accounts at Facebook, YouTube, and Ins, etc. to extensively spread the club's event information, and simultaneously show DFM sponsorship brand logo and representative products, in order to further improve Dongfeng brand reputation and influence.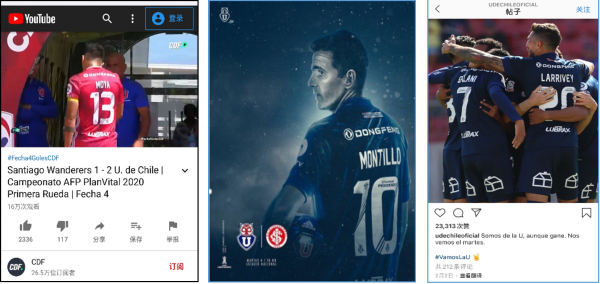 In the future, DFM will keep on strongly promoting the brand abroad, and take full advantage of overseas social media's competitive traits (like communication convenience, interaction, and strong initiative) to expand the brand communications. In addition to organizing the activities (like Key Market Promotion Month, Thematic Communication on Holidays and Festivals, Stories of Car Fans, and Live Streaming of Brands) little by little, DFM will adopt means like Google SEO, cross-border E-commerce platform operation, and cross-border cooperation and make good use of DFM's overseas social media communication matrix, in order to echo with DFM's international website, all sectors subordinate to DFM, and overseas dealers' social media platforms and landing resources, make joint efforts, actively press ahead with online/offline integrated digital communication, and effectively boost overseas marketing.