Auto Shanghai 2021 was opened in China on April 19.
Themed on Sharing-City, Dongfeng Motor Corporation makes presence in Auto Shanghai 2021, for the first time after Dongfeng released its 14th Five-year Plan. A few companies of vehicle, key parts and components and software from Dongfeng exhibit their products at Auto Shanghai 2021.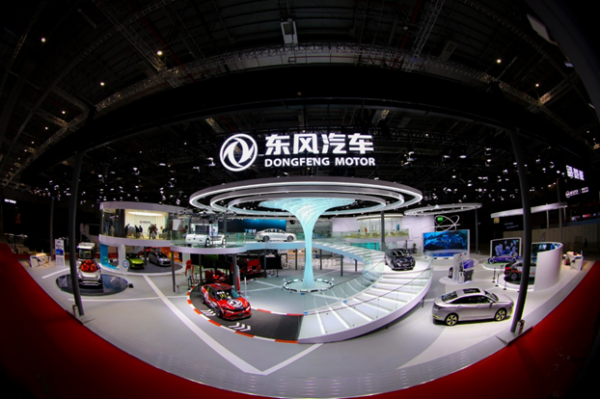 Dongfeng exhibits many of its forward-looking concept vehicles, NEVs, leap-forward technologies of smart driving, MACH powertrain, among others, at the event. By building the "digital & smart city", Dongfeng is transforming into a tech company. 
The exhibition stand of Dongfeng Motor looks like an unfolded map, which has crisscross stand paths and simulates the "person-vehicle-road-cloud" synergy ed by data. In this map, one can see rich scenarios of life, office and automobiles. In the middle of the stand is the art model Dream Tree, which are interwoven and inter ed so that dreams become true in the digital era.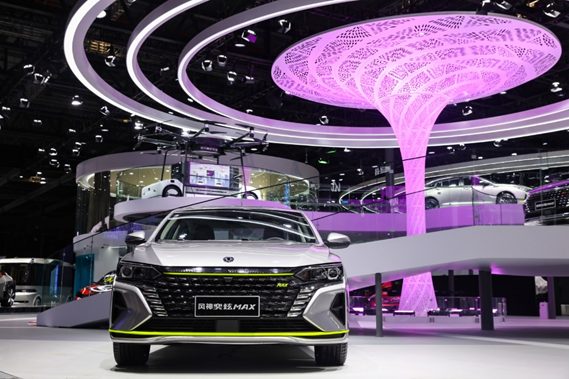 At 9 a.m. in the morning, the global debut of Dongfeng Yixuan MAX, which has the theme "Farewell the notion that family sedan is enough", is held here at Auto Shanghai 2021. The Yixuan MAX makes debut to kick off the journey of Dongfeng Aeolus towards the "model that popularizes the high-end performance".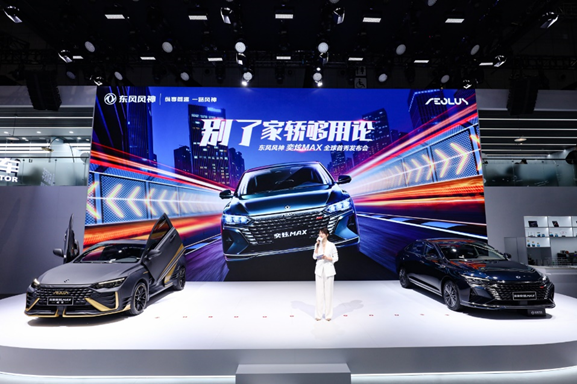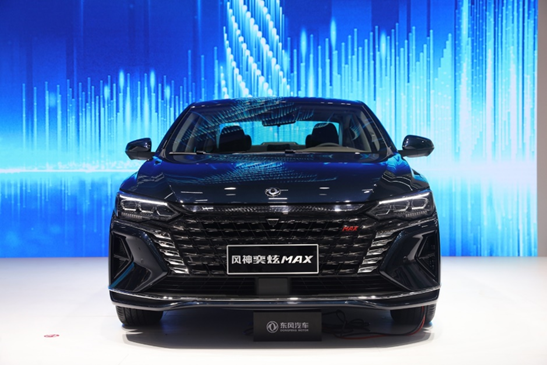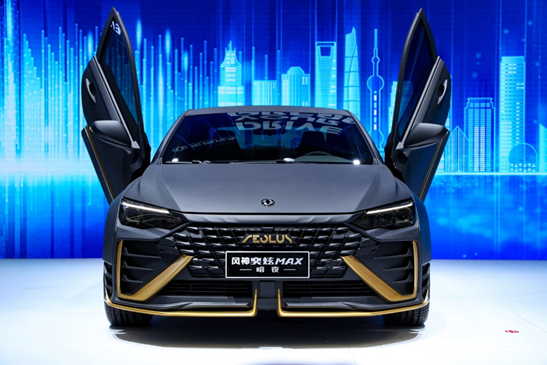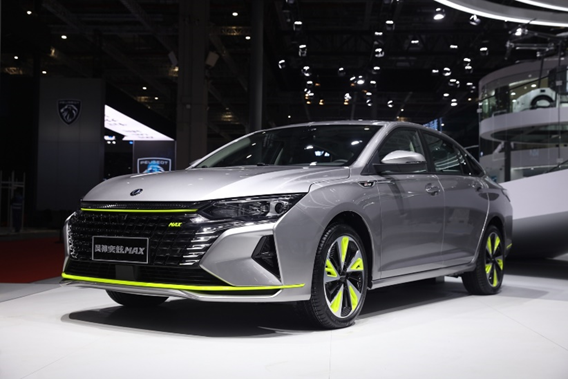 Positioned as "track-class wide-body sedan", Yixuan MAX has 1,870mm body, which is widest among the same-level models. The appearance design is derived from the "track storm aesthetics". Besides, Dongfeng is dedicated to making the interior into the "elegant tech cockpit". Besides, the Wind 6.0 UI intelligent interactive vehicle machine system brings multi-dimensional intelligent experience. As the first sporty model built on DSMA architecture, Yixuan MAX has large space, control level and comfortable experience larger or better than that on the same-level models. In terms of power, the brand-new MACH Power technology equipped on Dongfeng Motor ensures Yixuan Max has five technical strong points in power, fuel economy, NVH, reliability and intelligence.
e.π2021, the new-generation conceptual model that integrates Dongfeng's leading technologies, has given more possibilities to tech development of Aeolus. e.π 2021 is equipped with L4 automatic driving technology, intelligent entertainment, health and environmental protection monitoring and other forward-looking intelligent networking technologies. In modeling, Dongfeng is inspired by the natural forces of "harmony and symbiosis", extends the story of scenery aesthetics, presents the aesthetic feeling of "dynamic sculpture", and integrates technology with aesthetics. In terms of configuration, it pays attention to the "free and friendly" interactive experience. This smart pure electric SUV model is originated from the pure electric platform, which adopts the SOA architecture, continuously optimizes the user's driving experience, and is equipped with leading three electric technologies and high-voltage fast charging technology, which can effectively overcome the mileage anxiety.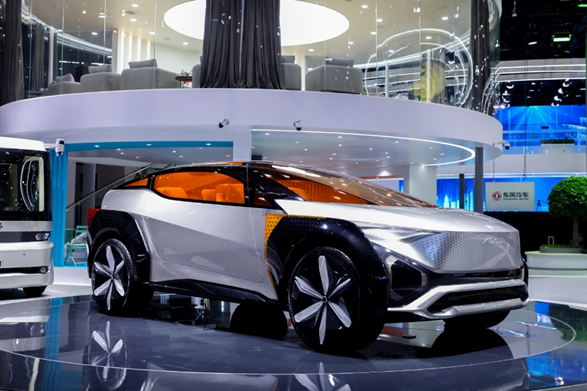 Dongfeng Future family concept vehicle adheres to Dongfeng Future's "Fengdong dynamics" family design concept, endows the vehicle with great emotions and vigor, which is ready to drive robustly forward. T5-EVO Thunder Version, d on T5 EVO, the pioneer of fashion SUVs, is the result of sport refitting. It has the young personalized sports modeling style of "cool fashion".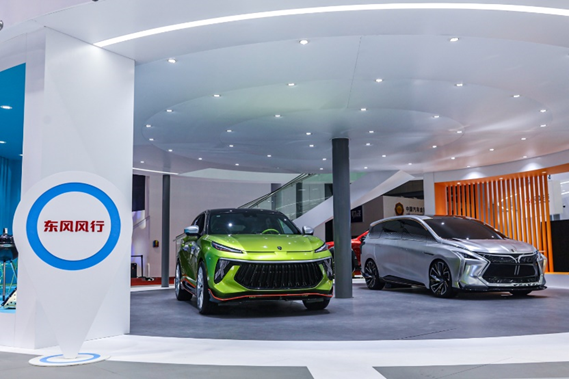 The concept NEV Fengon S-007 adopts the new design philosophy "interstellar power". The headlamp design in the form of "space power crystal", the Lightening Speed waistline decoration and other patterns reveal the new vision of Future brand to the young people of Z generation.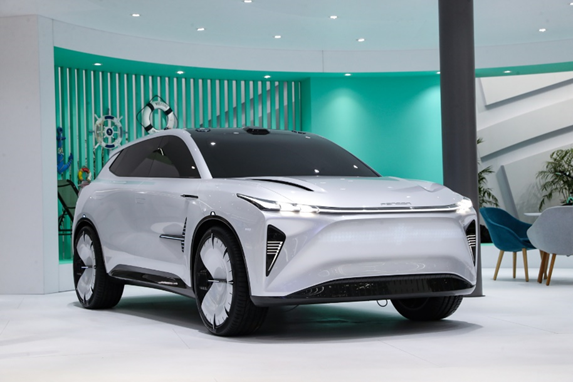 d on the same platform of Nissan NAVARA, Rich 6 Travel Version adopts fully enclosed "O-shaped" work, high-strength tank body, 6MT diesel four-wheel drive standard model and 8AT diesel four-wheel drive standard model, which can produce robust power.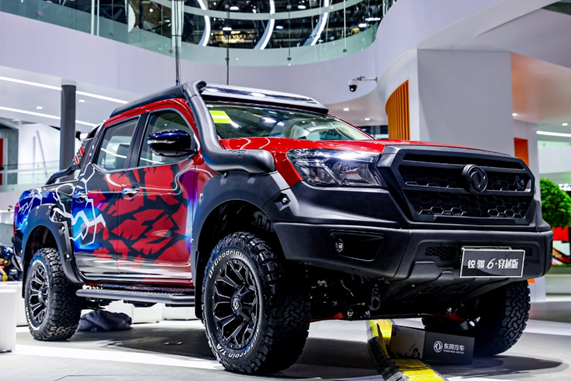 In the eight interactive zones in Dongfeng stand, the audience can scan the code to enter APP and generate online and offline ONE ID to start the "journey of driving dreams". During the journey, the audience can get into the "smart city sand table" to explore the "person-car-road-cloud" connected smart city, experience the "racing simulator" with MACH speed, and enter the "immersive mobile entertainment space" to enjoy the life of Wind . They can also come to the "vision of leap into the future" to see the movie in Sharing-Bus. A wonderful experience of "foreseeing a new journey" is happening in this future city.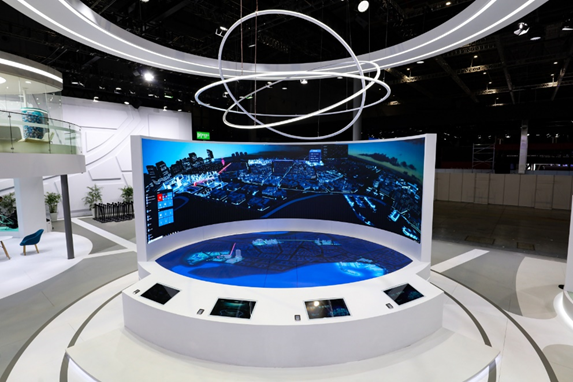 According to the "Dongfeng Rises in the East Program" released on the evening of April 17, Dongfeng Motor will adjust and optimize its business structure, and create "three business units": vehicle business, tech sector and service ecology. "In the field of passenger vehicles of our own brand, Dongfeng will strengthen the differentiated structure, and focus on VOYAH, Dongfeng Aeolus and high-end electric off-road brands." said Zhu Yanfeng, Chairman and Party Secretary of Dongfeng Motor Corporation. As the main force of Dongfeng's own passenger vehicle brands, Dongfeng Aeolus is positioned as the mainstream tech brand with fun of driving.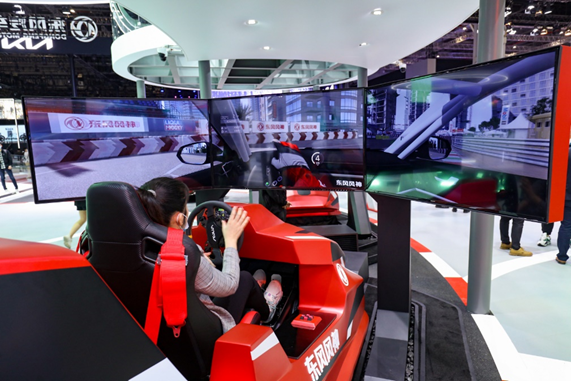 Dongfeng Yixuan MAX, which is exhibited in Auto Shanghai 2021, makes high-end driving performance within reach of ordinary consumers. A new Aeolus image with technology, temperature and youth is opening a new era of brand. In the next five years, Dongfeng Aeolus will launch ten new models d on the brand-new modular architecture, including six fossil fuel models and four NEV models. Focusing on SUVs, sedans and NEVs, Dongfeng Aeolus will continue upgrading and iterating.  
Today, VOYAH, a leading brand of high-end intelligent NEV with zero anxiety, is also exhibited in Auto Shanghai 2021. The brand brings VOYAH FREE extended range electric version and pure electric version, and launches two new colors, namely, glazed blue and jade green.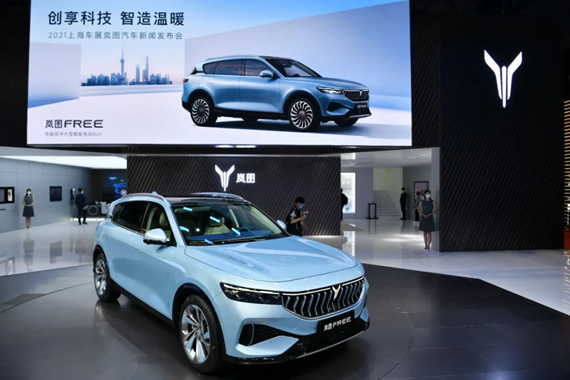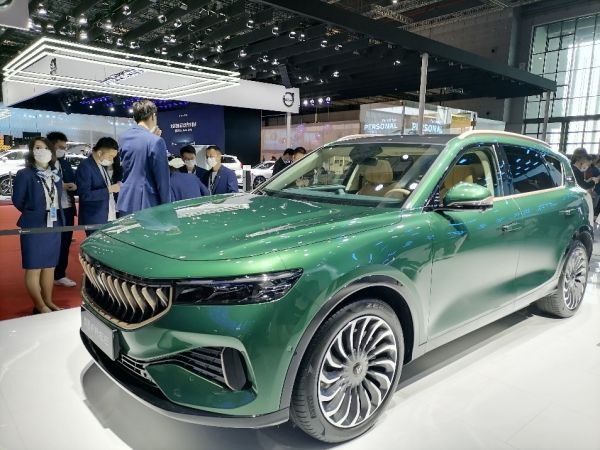 VOYAH FREE is positioned as the performance medium and large-sized intelligent electric SUV. The whole series are equipped with 56 luxury configurations and L2+ intelligent driving assistance system. The first six VOYAH spaces in Beijing, Shanghai, Guangzhou, Chengdu and Wuhan, etc. have been put into operation. By the end of this year, VOYAH will establish 40 direct sales channels and 20 direct service channels in 20 core cities in China.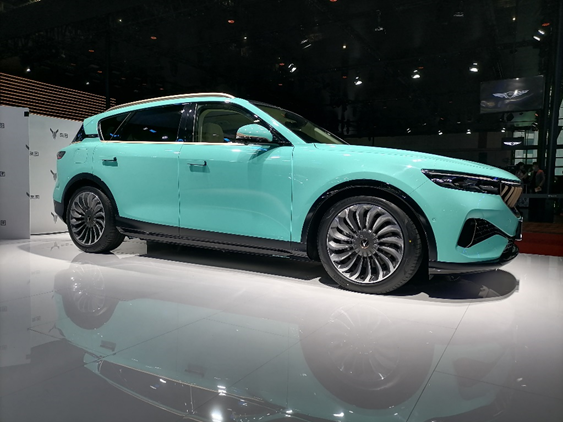 Dongfeng has made progress in all fields, including the three electric core assemblies, vehicle platform architecture, charging and swapping technology, hydrogen energy and others. It keeps making tech innovations, trying to find new business models and promote the leap-forward development of NEVs. At Auto Shanghai 2021, Dongfeng exhibits its intelligent integrated power chassis. Embodying the general, modular and platform design philosophy, it adopts the safety electronic and electrical architecture of Ethernet multi domain fusion, configures Dongfeng's own pure electric and hybrid drive assembly and integrated power battery system, fully integrates the requirements for vehicle safety of functions and information security, and creates a service-oriented intelligent integrated power platform for automobiles.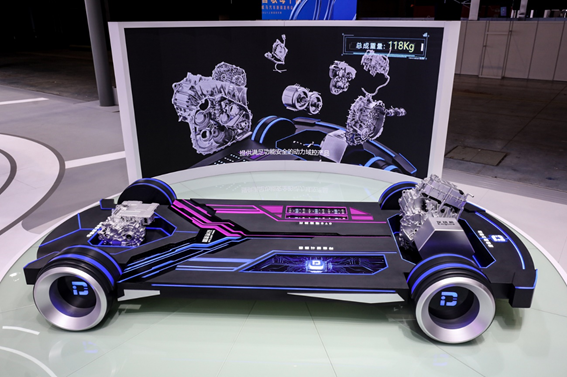 At Auto Shanghai 2021, Dongfeng also brings a hydrogen fuel cell system called Dongfeng H2ONE-50, which features small size, lightweight, 95% hydrogen utilization rate and overall efficiency 5% to 10% higher than that of the industry average. Dongfeng e·H2, equipped with its fuel cell system, completed China's national declaration in December 2020. By the end of 2021, 100 Dongfeng hydrogen fuel cell passenger vehicles will be put into demo operation in Foshan City, Guangdong Province of China. The demo scale will be expanded in 2022, so as to boost the large-scale and high-quality development of hydrogen energy industry.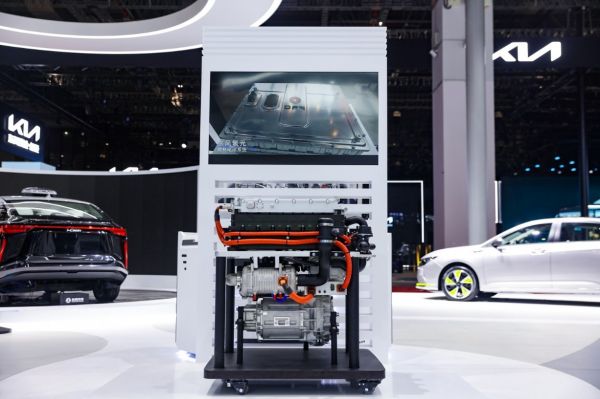 In the exhibition zone of smart transport, a Sharing-Bus opens a new scenario of future mobile life. It is equipped with two solutions, namely, L4 automatic driving and 5G parallel driving, integrating the innovative concept of seamless and shared intelligent transport. Offering business talks and leisure entertainment, Sharing-Bus gives passengers new seamless mobile experience. Dongfeng has also launched the Sharing Aircraft land-air integrated intelligent logistics solution, including flight module, function cabin module and ground module. Among them, the aircraft in the flight module has the functions of autonomous flight, cloud control flight, vertical lifting, real-time network scheduling, etc., with the maximum cruise speed up to 130 km/h, the maximum flight time up to 25 minutes, the maximum range of 35 km, and the maximum payload of 200kg. The intelligent platform of the ground module has two driving solutions, namely, L4 automatic driving and 5G parallel driving. Through the real-time monitoring in the background cloud, it can realize the data age between the chassis and the aircraft, and grasp the logistics information in real time. The function cabin module can be customized as express box, retail cabinet, medical box and so on according to the actual application scenarios.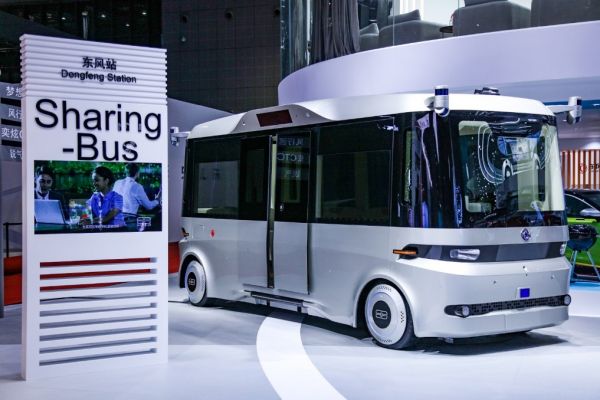 Dongfeng Motor also exhibits its golden powertrain composed of MACH Power C15TDR high efficiency version and Dongfeng HD120. Dongfeng C15TDR engine is a new-generation high-performance turbocharged direct injection engine of the automaker. The engine has obtained the certification of Energy Efficiency Star of CATARC, which also ranks among the Ten Best Engines in China for 2020.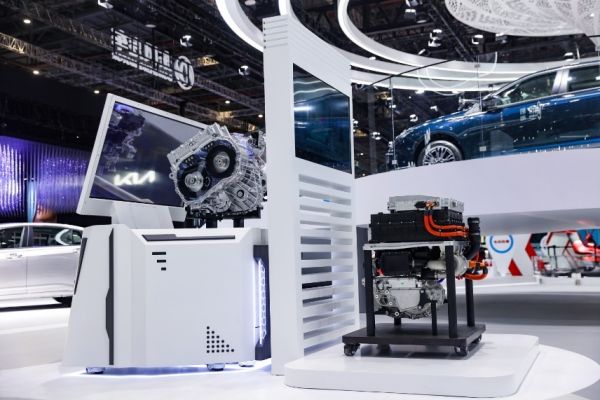 Dongfeng HD120 is a dual-motor multi-mode electric drive assembly, which can be used in PHEV, HEV and other models. It supports the pure electric drive, series, parallel, engine direct drive, braking energy recovery, parking power generation and other modes. The golden powertrain ensures the vehicle can achieve the most efficient transmission in various driving conditions. It takes only seven seconds to accelerate to 100km per hour. One tank of oil can drive 1,000km. The powertrain achieves 30% fuel saving rate, thus greatly reducing the cost for users, and truly realizing small displacement, low fuel consumption and high power.
A large number of customers, visitors, journalists and industry experts gather at Dongfeng stand to witness the new launches, learn about the new tech achievements of the automaker, and give great attention and recognition to Dongfeng's exhibits.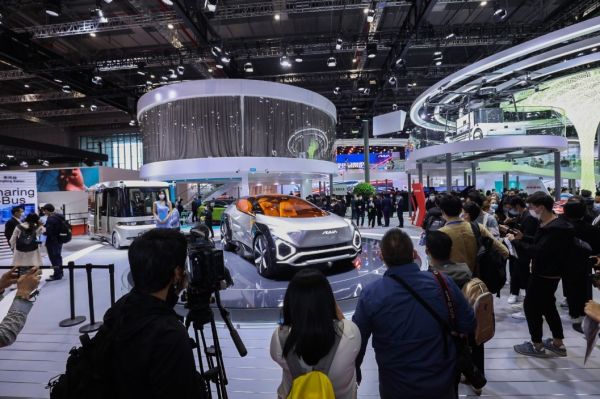 Dongfeng Motor is making endeavors to develop clean energy and smart techs while making reforms. It is experiencing the profound reform towards "an excellent tech company providing high-quality automotive products and services for users", which is pushing Dongfeng into the future.