DONGFENG Motor group has just won two national grand prizes in China.
VOYAH FREE won Jury Award at major car awards ceremony
On April 26, VOYAH FREE won Jury Award in China Automobile Festival, an automobile awards ceremony host by China's CCTV, a testimonial to the car's excellent driving and safety performance, intelligent technology and premium quality as well as to the strength of China's high-end new energy vehicles. Among nearly a thousand new cars, VOYAH FREE ranked first in 5 out of 11 assessments and topped the list with the highest overall score.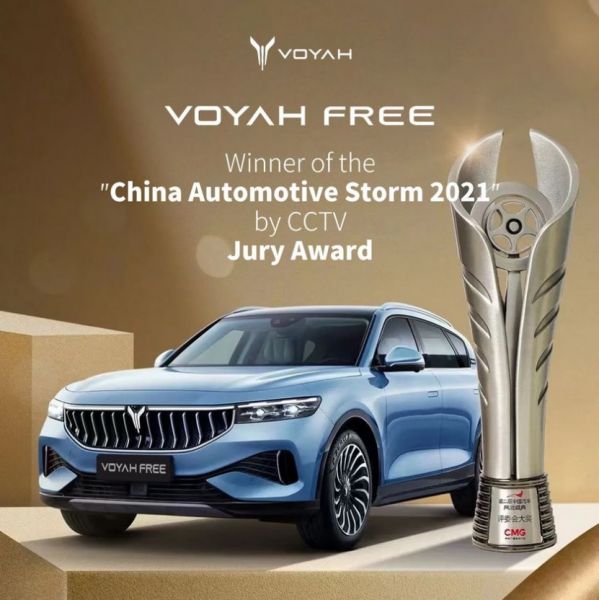 NEV masterpiece
Trendsetter of the times
A major luxury band by Dongfeng Motors, VOYAH plays an important role in the Chinese state-owned enterprise's NEV strategy. In response to China's carbon neutrality and emission peak goals and low-carbon life campaign, VOYAH launched its first model, VOYAH FREE, which turns out a key p in the market.
User-centric approach for better product-user ecology
d on a user-centric approach, VOYAH has its users involved in the whole process of manufacturing and operations such as R&D, testing and service. VOYAH has also pioneered a direct-sale management model via digitalization.
Technological package makes a great product from China

VOYAH FREE carries innovative body safety equipment, innovative battery technology, HUPO and YUNMU (also known as Amber and Mica), as well as a car OTA system. This makes VOYAH FREE stand out as a competitive p in the popular brand segment.
Earning trust from customers with its texture and quality
VOYAH FREE has delivered over 10,000 cars since its launch in June 2021. Nearly 61% of its customers own or used to own products by global brands such as BMW, Mercedes-Benz, etc. In this light, VOYAH has become the top p in China market.
The MVP p of Chinese intelligent manufacturing
The Grand Ceremony of Chinese Auto 2022, held by China Media Group, is the only annual auto industry selection managed by national media in China. It represents professional judgement, authority and marketing guidance.
VOYAH FREE won the Jury Award over nearly 1000 models.
A member of the stranding committee of the Party Committee and General Accountant of DONGFENG Motor Group, Mr. Feng made an award-winning speech: "DONGFENG carries the dream from the start and put our clients in the first place. We aim to provide a worry-free product experience and full-scale services by innovating and crafting our premium NEV brand, VOYAH.

VOYAH is the pioneer of DONGFENG's "leaping forward via technology" initiative.
VOYAH FREE combines all the latest electric powertrain technology and intelligent equipment of DONGFENG Motors. It is d on the original platform for EV vehicles, the ESSA platform, originally deploying two powertrain system in the product lines, and carries an air suspension system that has only been seen in premium brands. It provides level-up experience and quality, and that's how VOYAH FREE proves its top scores.
VOYAH has proved its values, and the brand, as well as DONGFENG, will carry the initial dream forward and aim to make better products to accompany users and drive their dreams.

Dongfeng's MHD hybrid power system won Special Jury Award at major car awards ceremony
Dongfeng's proprietary hybrid power system, Mach Hybrid Dual-engine (MHD), stood out from nearly a thousand products and won Special Jury Award at China Automobile Festival 2021, an important reference for car performance.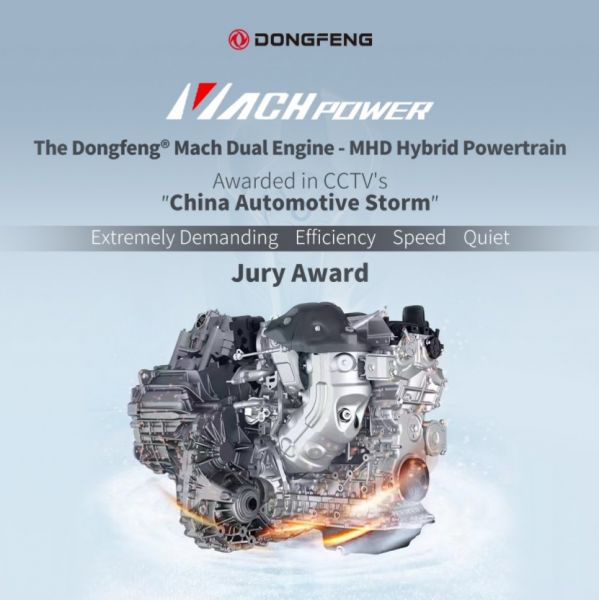 Before this new nod from the industry to Dongfeng's Mach power products and the independent R&D capabilities of Dongfeng's technology center, Mach 1.5T engine won the Special Jury Award at China Automobile Festival 2020.
"As an advanced power system, MHD covers 25 industry-leading technologies across all energy fields spanning oil, hybrid, electric, hydrogen power, and mass-production, and represents 14 world-leading innovative patented technologies. MHD also contains proprietary core technology in the major areas of engine building, hybrid power, electric drive, and system matching, a milestone in breaking technical barriers and establishing independent R&D of hybrid systems. Way to go!" - Award Speech to MHD Hybrid System

Mr. Yanding YANG, Deputy Director of Dongfeng's technology center and Deputy Secretary of the Party Committee, attended the ceremony and witnessed MHD receiving the award. He said: "every one of us at Dongfeng is much encouraged by MHD hybrid power system winning the Special Jury Award and the recognition of the industry. This system, d on a fifteen years' technological heritage of Dongfeng, is a tour de force under Dongfeng's customer-centric R&D concept. It has perfectly realized surging power on ultra-low energy consumption, presenting a pleasant driving experience. We are sure that MHD will drive high-level technological innovation at Dongfeng as well as a jaw-dropping upgrade of Chinese car industry."
Which are the Dongfeng models with MHD?
Dongfeng Aeolus Yixuan MAX
With MHD hybrid system, Dark Night Yixuan MAX can reach a maximum engine thermal efficiency of 41.07% and a minimum fuel consumption per 100 kilometers of 4.3L/100km, and it only takes 6.95s for the car to accelerate from 0-100 km/h.
Dongfeng Aeolus Haoji
With MHD, Haoji can achieve a 90%+ system efficiency across 90% working conditions and maximize the retention of kinetic energy conversion. A comprehensive power of 180kW and a system torque of 540N·m lift the car above competition and make start acceleration happen in as short as 0.15s.
More latest models from DONGFENG and VOYAH will be launched in different countries in 2022. It demonstrates the epoch when Chinese intelligent manufacturing provides products and services and drives a better life for everyone around the world.